About Us
Founded in 1968, Capsonic is a globally recognized expert supplier in customized insert molding and electromechanical assemblies. Serving Aerospace, Automotive and Military
Insert Molding, DFM and Assembly
Facilities in the United States and Mexico
If it moves you, capsonic has a part in it. 

™
Working with world-class system and sub-system leaders across Automotive, Aerospace, Military, Medical, and Appliance, the company is an innovator in developing robust products that are leading the way forward to broad electrification in these sectors.
From value sourced material procurement done through a carefully vetted mature supply chain, to best-in-class engineering capabilities as a collaborator in Design for Manufacturability, Capsonic is known for providing fast prototyping of complex parts and accurate quotes.
As an integrated supply partner capable of meeting challenging production deadlines, the company is also able to offer continuous product improvements throughout the lifespan of proprietary parts and systems found in many of today's top-selling vehicles and aircraft.
With facilities in Elgin, Illinois, Auburn Hills, Michigan, and Juarez, Mexico, Capsonic is well situated to logistically meet the needs of its customer base. With unparalleled quality control systems in place, and a workforce of highly skilled and trained technicians, Capsonic assures continuous supply of defect free products for its industry leading customers.
Capsonic's reputation for excellence is also backed by top certifications:
Automotive IATF 16949
Aerospace AS9100
International ISO 9001
Environmental ISO 14001
Process NADCAP
Military Export – ITAR
Homeland Security – C-TPAT certified
Minority – NMSDC, CMBDC
Veteran owned – NVBDC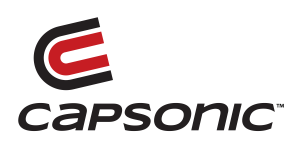 Seth Gutkowski
President | Aerospace and Motor Products 
Experience and Education
Number of years at Capsonic: 20 years
Company role: Oversee strategic direction for the company in the Aerospace, Military and Motor Markets; leading Capsonic with growth strategies, quality technical excellence and customer collaboration
Capsonic location: Sales and Customer Support office in Auburn Hills, Michigan
Education: B.S. in Applied Physics, with nuclear engineering minor from Michigan Technology University; Masters Course-work and Research Fellowships
Prior Employment: NASA Jet Propulsion Lab, Graduate Fellowship research in quantum well sensors for space exploration craft; General Motors, Coordinator for the Electromagnetic Research group, electric power steering
Lucas Automotive and Eaton Automotive, Engineering Director for Automotive Electrical Products and Subsystems
Awards and Accomplishments
Awards: Past member of MENSA; Multiple performance and leadership awards from various employers over the years; developed patent on an electromagnetic steering system
Outside Accomplishments: National level amateur road cyclist, won state and placed in national level road cycling races
Core Beliefs and Leadership
Core beliefs brought to every customer engagement: Collaboration, and a fair, firm and factual approach; always interested in creating the best value for the customer
Thought leadership ideas around the company's future and the industry as a whole: As a leader at Capsonic Seth is personally committed to promoting electrification in the various product lines across all of the mobile industries including Automotive, Aircraft, and Marine. Efficiency and consistency in manufacturing is critical to developing and filling the void that the systems customers in these industries need to have. This limits expansion to their systems product offerings and Capsonic are experts in solving these types of challenges.
Contributions to Capsonic's success as a leading company in the industry: Promoting unquestioned technical excellence, and promoting true value across function, price and quality. Collaboration with customers, and facilitation as a leader with Capsonic's teams and customers' teams internally and externally, is also an important factor that drives Seth's success as a leader.
Dale W. White
President | Automotive
Experience and Education
Number of years at Capsonic: 35 years
Company role: Manage existing customer accounts and develop new accounts
Capsonic locations: Elgin, Illinois and Juarez, Mexico
Education: Degree in Management from Western Illinois University
Prior Employment: Dale has spent his entire career growing in various roles at Capsonic throughout the last several decades.
Core Beliefs and Leadership
Core beliefs brought to every customer engagement: A strong belief in the critical importance of clear and concise communication among all parties.
Thought leadership ideas around the company's future and the industry as a whole: Capsonic will continue developing cutting edge components to assist our customers in growth markets including electrification in Automotive, and the insert molding and electromechanical assembly technology we specialize in is a perfect fit to lead with our customers on this continuous improvement path.
Outside Accomplishments: Organizer for an annual golf outing that raises money for Big Brothers programs.
Message Us
Get In touch below.
Ask Any Question or Start a Conversation.
Locations
Michigan
3121 University Drive, Suite 120, Auburn Hills, MI 48326
Illinois
495 Renner Drive, Elgin, IL 60123
Texas
7B Zane Grey St., El Paso, TX 79906
Mexico
6551 Hermanos Escobar Parque Industrial Magnaplex, Juarez, Chihuahua, Mexico 32320